Safety first! More safety & comfort when handling tarpaulins
Manually opening and closing a roll-up tarpaulin is a nuisance, and climbing up a ladder can be dangerous. However, depending on the bulk material, residues sometimes remain in the trough that have to be removed with a broom; up to now, drivers have usually climbed into the trough with a ladder to do this. This poses a risk of falling and injury, not only in wet and snowy conditions.
Fliegl therefore presented an innovation at Bauma that makes climbing up to the skip and handling tarpaulins easier and significantly safer: a pivoting and folding platform, in combination with a new electric fliptop sliding roof.
Unlike a ladder, the platform cannot slip away; the treads are equipped with small upward-curved teeth and are thus just as slip-resistant. Due to the special shape and mounting, easy access to the supply connections from both sides is maintained. The platform can be mounted in FR on the left as well as on the right and for this it offers a great plus in work safety. It also scores points for ease of handling and can be folded out with little effort. Release a spring latch, swing the platform until it locks by itself and unfold the ladder. That's it.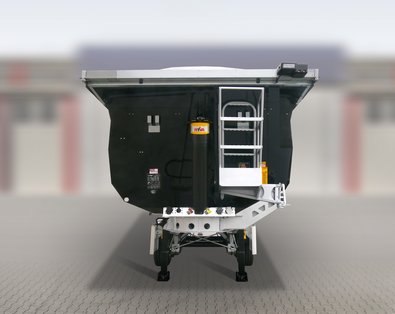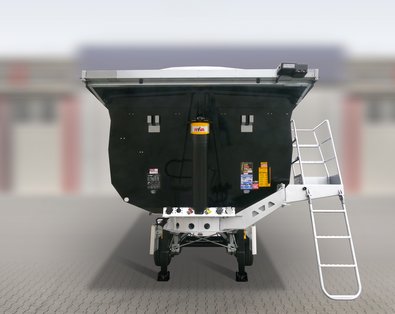 The advantages:
Safety first: Fall protection and firm stand
The connection plate remains freely accessible
Can be swiveled and folded, without any effort at all
Also in combination with electric canopy
Can be mounted on both sides of all tipper trailers
No maintenance required
The electric Fliptop sliding roof also scores with clever details: the guide rail is 1 meter longer than on similar roofs, which ensures greater stability. In addition, only one steel cable or guide roller is needed for operation - this prevents the tarpaulin from running crooked and getting caught. Thanks to a bolt that retracts into the guide bar, the canopy does not need to be additionally braced at the rear.
The new standing platform can be mounted on all Fliegl tipper trailers in combination with the electric Fliptop sliding roof, regardless of the body type and height. Thanks to galvanization, it is optimally protected against rust and provides more safety and comfort for the life of the trailer.
Back